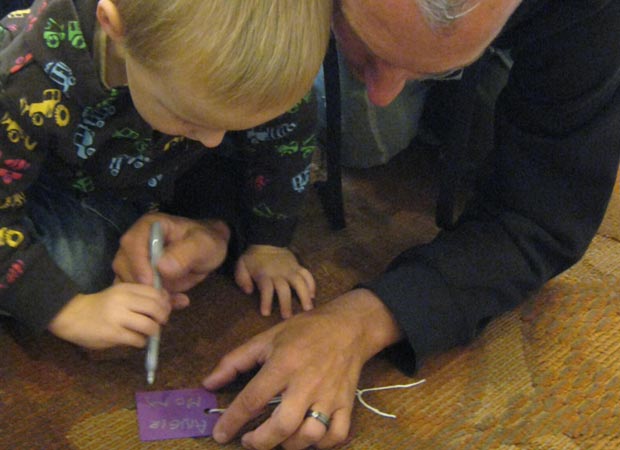 ArtPrize* ushered my artwork onto a large stage—with 70,000 people visiting the Amway Grand Plaza Hotel where I showcased my work in 2011. But for me, ArtPrize also became a catalyst to discover a hidden gift: an unexplored talent. I learned that I don't just paint watercolors; I also build healing environments. Florence Nightingale, a nurse who helped soldiers on the battlefield over a century ago, explains the connection between healing and art. She said, "Variety of form and brilliancy of color in the object presented to patients are an actual means of recovery."
In creating a mini healing environment with my 2010 Woman in Red collection—three watercolor paintings depicting a young woman's struggle with a heart problem combined with a red dress on a mannequin—I learned something about the powerful healing potential of art. Within a five-minute interaction, visitors emotionally connected with my work; three years later people are still asking me, "Are you the red dress artist?"
Then in 2011, nearly 20,000 ArtPrize visitors actively participated in the healing process. Braving the Wind—a collection of three watercolor paintings portraying a young woman's fight against cancer and an interactive Healing Tree—facilitated a healing environment that had a life of its own. By hanging Hope Cards on the tree, visitors remembered loved ones who had battled with cancer. As the artist, I only needed to get out of the way and allow others to become part of the artistic process. Many shed tears, and I witnessed precious interactions.
A window honoring Congo's Silent Heroes—rape survivors from half a world away—and seven-foot pillars portraying the stories of courageous refugee women prompted several ArtPrize 2012 visitors to confide their own rape stories. In those tender moments, Courage Ablaze helped facilitate small steps towards healing.
ArtPrize provided the opportunity to create the healing environments, and visitors validated art's healing potential. "Art offers the power to pause," said New York artist Makoto Fujimura, "and the potential to find healing." Combining meaningful stories with paintings that convey hope have helped many people process their pain and experience healing.
*ArtPrize is the world's largest open art competition since 2009. For over two weeks, the entire Grand Rapids downtown changes into an art venue while public-based voting decides the winner. This unique event involves local and international artists and the active participation of the community.