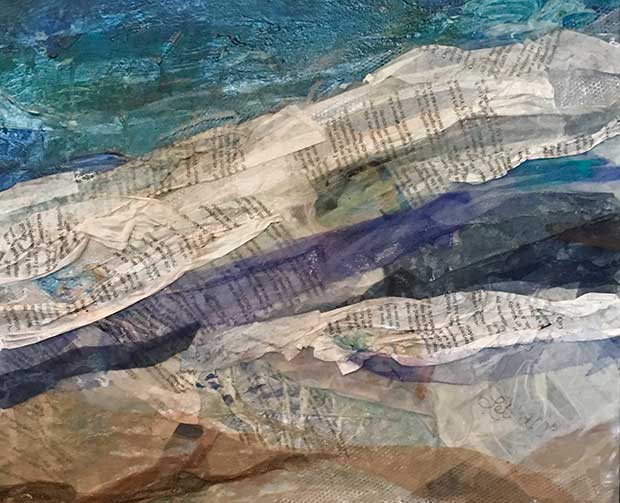 ArtPrize Nine, Let Go (detail shown), Pamela Alderman, 19 x 6 feet, Multi media, 2017
I've actually lived through eight ArtPrizes, earned all eight t-shirts, and watched amazing provisions unfold over the past eight years. But even after eight years of ArtPrize experience, these questions still haunt me: Will I be able to pay for my big ideas? Will I be able to secure a top venue? Will my work communicate hope and healing? The struggle is always ongoing. But, thankfully, donors, the perfect venue, friends, and volunteers, come together every single time! All arrive as special gifts.
In September, my new interactive healing installation, Let Go, will debut at the Amway Grand Plaza Hotel for ArtPrize Nine.
Be an art patron! Purchase one of Pamela's unique paintings to help fund her ArtPrize 2017 interactive healing installation.
Enjoying Summer!
It's time to power down for the summer. See you back in September for Let Go at ArtPrize Nine. Enjoy barbecues and sunshine with your family and friends!
About ArtPrize
Since 2009, ArtPrize is the world's largest open art competition. This 19-day event in Grand Rapids, Michigan draws more than 500,000 visitors with around 1500 participating artists. This unique event involves local and international artists, art, and active community participation. Veteran ArtPrize artist and facilitator Pamela Alderman is known for creating a new kind of artist/viewer work that invites audience collaboration. Her work lets others speak and respond. In 2015, her work, Hometown Hero, was voted into the Top 20 and finished 3rd Place for Time-Based exhibits. Pamela has been an ArtPrize artist since 2009.