My ArtPrize 2014 Series
Healing for Sex Trafficked Children
Featured at the Gerald R. Ford Presidential Museum for ArtPrize 2014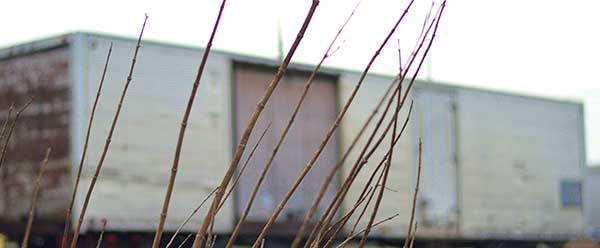 The Scarlet Cord installation reveals the deception that enslaves innocent children. As visitors step inside a 40-foot storage container filled with thirty doors, they enter a secret world. This dark world crosses religious and social economic borders to sell our children for sex. The twisting scarlet cord depicts the trauma bond that connects the children to their traffickers. The weathered doors represent these abused children whose youthful minds have become knotted. Alderman's art—dedicated to these suffering children tethered within the sex industry—calls for compassionate action.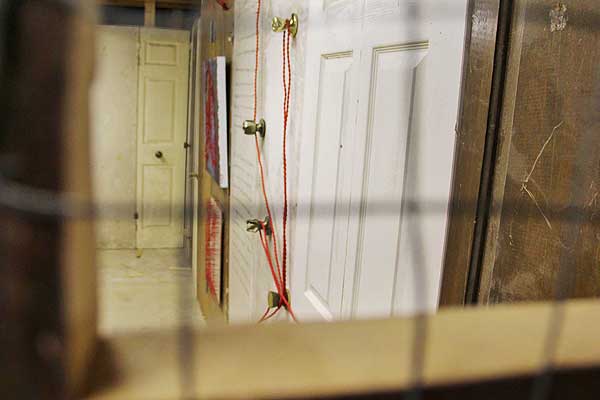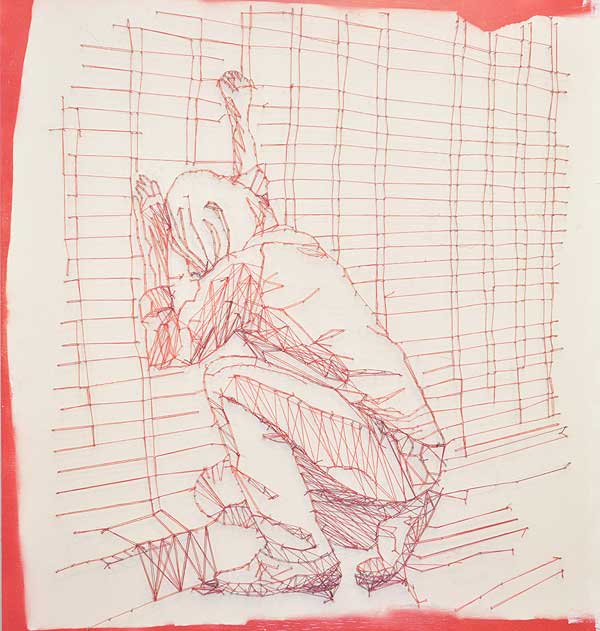 Tethered, Mixed media on plywood, 44 x 48 inches, 2014 (approx 700 nails and 600 feet of string)
In India, a teenage prostitute's baby cries while tethered to a post by a thin scarlet cord. No one is allowed to touch or talk to the baby. Her trafficker's goal: create the perfect sex slave—a child desperate for affection. Similarly, by using manipulation and deception, pimps enslave American children with an invisible psychological tether.
Close-up detail of Raped
Children suffer traumatic pain every time they are trafficked—or raped. For many of these victims, the sexual abuse started at a very young age when the boys or girls were molested by someone they knew. Just as a ruptured appendix releases toxic poisons, sexual abuse releases acidic emotions. But if children are rescued out of sexual slavery, many will begin to heal and learn how to respond appropriately to healthy compassion.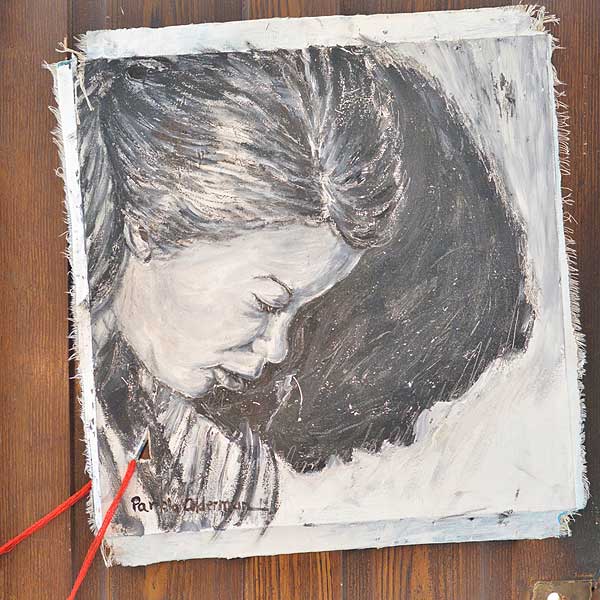 Branded, Livestock branding markers on canvas, 25½ x 25½ inches, 2014
Traffickers refer to the group of children under their control as their "stable." Within their stable, children are tattooed—marked like livestock—and herded into a mechanical and emotionless existence. However, if loving individuals help restore these children to a safe place, the children can thrive again.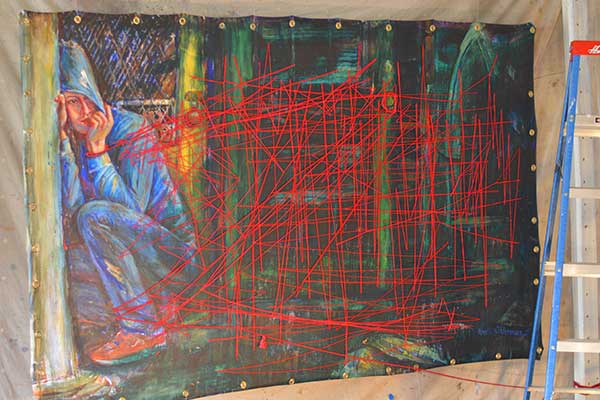 Wounded, Multi media on canvas, 58 x 96 inches, 2014
Stripped (study), Yarn on canvas,
30 x 30 inches, 2014
Human trafficking touches all of us—even within our homes. Pornography first ensnared a ten-year-old boy when he clicked on a computer pop-up that read: "Funny football pictures." The producers of pornography deliberately target children—stripping our youth of their innocence.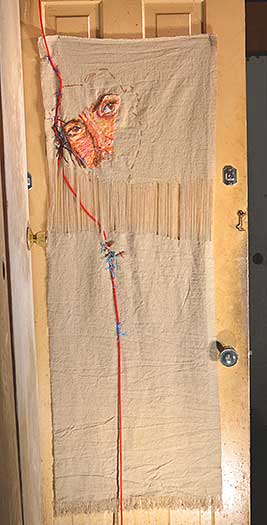 Forced (in progress, study), String on linen,
19½ x 56 inches, 2014
"Child prostitute" is a misnomer. Children are forced into the commercial sex trade; they don't volunteer to be abused. Brutal pimps exploit vulnerable boys and girls in the underworld of the trafficking industry—because the buyers of sex demand younger and younger prey.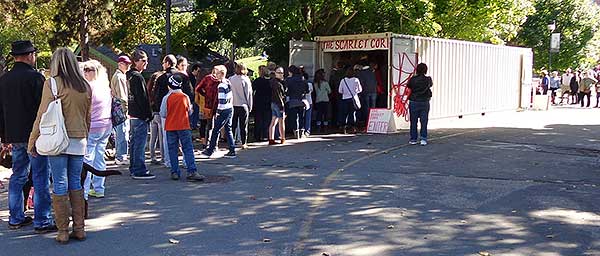 Visitors at ArtPrize 2014 line up to view The Scarlet Cord installation

The Scarlet Cord installation has partnered with Women At Risk International, a secular non-profit organization located in Wyoming, Michigan, which helps rescue and restore trafficked children.
Video
Singer Kelsey Rottiers and artist Pamela Alderman bring you "Midnight Wars & The Scarlet Cord," a collaborative music video set against the backdrop of "The Scarlet Cord" ArtPrize installation; confronting the harsh reality of child sex trafficking and calling for compassionate action.
This powerful video put out by END IT Movement shows a creative way awareness was brought to thousands at a national sporting event in Atlanta in April 2013.
Audio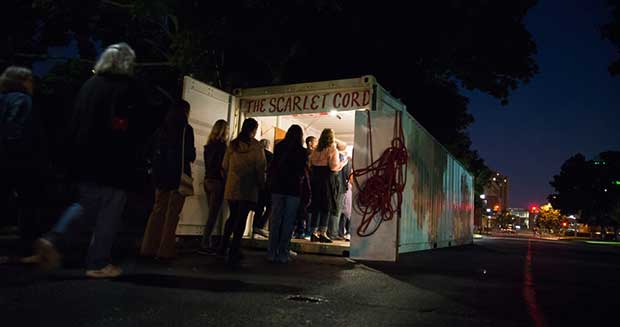 Listen to The Scarlet Cord Audio Collage
Real voices of trafficking survivors and law enforcement by Shared Hope International. "Midnight Wars" by Kelsey Rottiers.
Jessica Rowland of Women at Risk International and Pamela were interviewed by Andy Rent just prior to ArtPrize on September 23, 2014 about The Scarlet Cord. Hear the short, six minute interview: