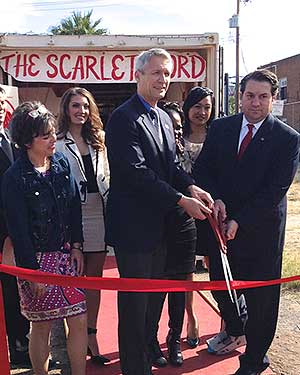 It has been an exciting year—kicking off with an exhibition of The Scarlet Cord during the Pro Bowl and the Super Bowl in Phoenix Arizona. Film makers from Colorado Springs flew into Phoenix to capture The Scarlet Cord exhibit and the responses of survivors and visitors.
For ArtPrize Seven, my work called Hometown Hero invited viewers into the artistic process by writing the name of their personal heroes on the 24 x 6-foot canvas; thousands of visitors responded. One New York critic described her ArtPrize experience as having to fight "past the thicket surrounding Hometown Hero" before she could continue to explore other works.
Then the year finished strong with a Courage Ablaze exhibition—which highlights the remarkable courage of the Congolese women and children—at Michigan State University.
Photo: Grand Rapids artist Pamela Alderman (at left) watches as Jim Waring, vice mayor of Phoenix (left) and Mark Brnovich, attorney general of Arizona, cut the ribbon to open The Scarlet Cord. At rear are Miss Arizona 2011, Brittney Brannon Kennan (left), and survivor advocate Rozlind Saumalu (Photo courtesy of Doug Hartzler).
ArtPrize Seven at the Amway Grand Plaza Hotel
Voted Top 20 and 3rd Place in the Time-Based category
Phoenix, Arizona during the Pro Bowl and Super Bowl sponsored by StreetLightUSA
Women's Expo at DeVos Place
Acton Institute and Prince Broekhuizen Gallery
The Scarlet Cord Film Premiere at the Grand Rapids Public Museum in partnership with Women At Risk International
Van Singel Fine Arts Center
Catholic Information Center at Cathedral Square
Residential College of Arts and Humanities at Michigan State University
Enjoy your family and friends for the holidays.
Curious for what's ahead in 2016? Stay tuned, I'll be back in 2016.