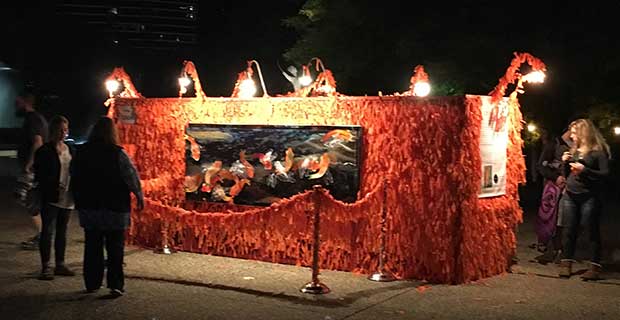 Thank you to the thousands of ArtPrize visitors for helping us to successfully complete our eight years of ArtPrize. It has been an amazing journey. I would like to acknowledge and thank over fifty volunteers—plus the Girl Scouts of Michigan Shore to Shore. You did a fabulous job serving the ArtPrize guests and showing compassion.
A special thank you to my dear friend, Kathy Pluymert, for her faithful support as volunteer coordinator for the last few years of ArtPrize. I couldn't have expanded the size and scope of my work without her. I would also like to thank my new friend and creative project manager, Marijo Heemstra. She has been an amazing asset and has helped work through several challenges in creating Color Me Orange—Color Me Kind. Metal artisan Steve Umstead did a fabulous job crafting the metal works portion of my installation. Plus I want to thank my team of Grand Valley State University and Cornerstone University interns and a team of carpenters who stepped in at the last minute to help with installing the work at the Ford Museum.
A huge thank you to the Ford Presidential Museum for hosting my work for another year. We also are grateful for all those who shared about their courageous journeys through bullying (#ColorMeKind). And, lastly, for the last couple of months, Josh Stewart followed us around with his video camera and put together a great film representing my work and healing message.

Coloring with Kindness
Gerald R. Ford Presidential Museum
September 21 to October 9, 2016
Voted Top 25 in Time-Based
(Located outside on the museum plaza)
Tell Us Your Story. #ColorMeKind