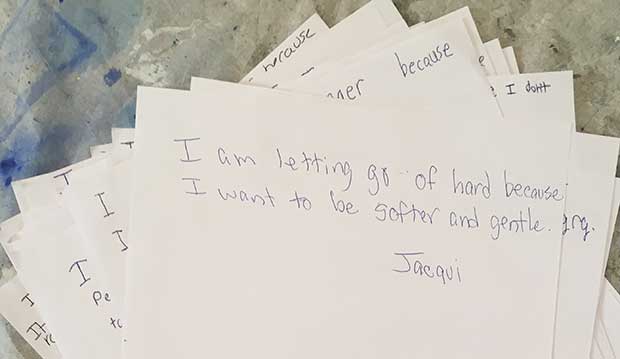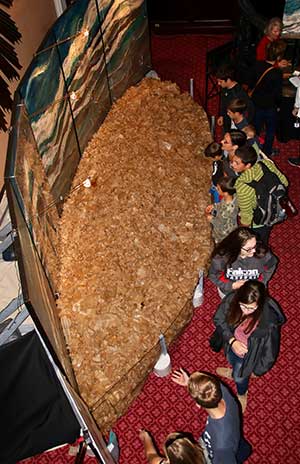 Thank you to the thousands of visitors for successfully helping us to complete our ninth year of ArtPrize. It has been an amazing journey! Over 70,000 Let Go notes were added to our interactive healing installation—an artist/visitor collaboration.
I would like to thank the one hundred twenty-six courageous individuals and third graders from Lone Pine Elementary School who pre-submitted Let Go letters and sentences. I would also like to thank over fifty exhibit volunteers, including the Girl Scouts, Young Life, and the Blue Star Mothers, for helping greet and serve our ArtPrize audience.
A special thank you to the following friends, co-workers, and businesses for helping make Let Go possible. You are fabulous!
Volunteer coordinator Jan VanderWal
Creative project manager Marijo Heemstra
Exhibit manager Mary Veilleux
Calvin College intern Melissa Burgess
Carpenter Mark Scholma
Install/uninstall team—Louie Vanderwal, Greg Shepherd, and Kelvin Kronemeyer
Exhibit supporter Patty Alexander
Encourager Kathy Pluymert
A committed group of financial supporters
PlexiCase Inc and Moonlight Graphics for generously donating supplies
A huge thank you to the Amway Grand Plaza Hotel for hosting my work for the sixth year. We also are grateful to all those who shared their Let Go notes during ArtPrize (#LetGo). And, lastly, I would like to thank Leon, my husband and life companion, for his faithful and loving support throughout the last nine years of ArtPrize. He's my champion!
Photo credit: Tom DeVette
Note: One hundred twenty-six participants pre-submitted Let Go letters and sentences to be collaged into the painting. The names and some details have been changed to protect identities.