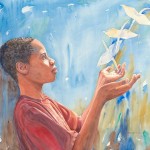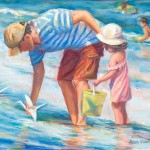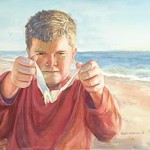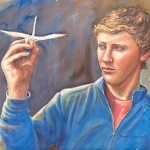 Since ArtPrize, I have been diligently searching for an amazing location for my ArtPrize Wing and a Prayer installation. A friend suggested that I check with D.A. Blodgett – St John's Home, a place for troubled youth, to see if they had any interest.
The morning before meeting the director, I spoke to an eleven-year-old from the St John's home while he was waiting for a school bus. His eyes lit up when he saw some of the work that I had brought. Although our interaction was brief, I suddenly knew that St John's Home was the right place for Wing and a Prayer.

The young boy has probably weathered a lot of turbulent winds. But if Wing and a Prayer could help rekindle his wonder and hope, then all the blood, sweat, and tears that went into work was worth it. And maybe in a small way, Wing and a Prayer could help bring hope and healing to some of the other children with broken wings.
As I left St John's, this Emily Dickinson poem came to mind:
If I can stop one heart from breaking,
I shall not live in vain;
If I can ease one life the aching,
Or cool one pain,
Or help one fainting robin
Unto his nest again,
I shall not live in vain.
Many thanks for your support. I'm so grateful. We plan to hang the work in the next couple of weeks. But because of the fire code, the 4,000 paper birds won't be part of the installation. The Wing and a Prayer series, however, found an amazing location—and hopefully will continue to give hope flight.