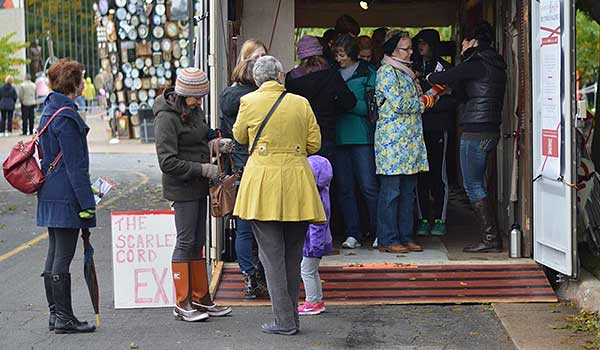 The expression on her face revealed tremendous loss. Her wiry hair brushed my chin as her head dropped to my chest. While on the street near The Scarlet Cord installation, the woman embraced me for a long time.
As a friend rubbed her back, grief surfaced. A deep lament bubbled up. After several minutes, these five words escaped through her lips: "It happened to my granddaughter."
The ache in this grandmother's heart spilled out. Like so many others at ArtPrize, a nineteen day exhibition in Grand Rapids, Michigan, this grandmother needed a place of refuge. A sacred space. A healing.
Seeing the needs of the public and hearing their heart cries, I began to realize that my artwork spoke to deep wounds. Shame and brokenness—hidden for a long time, maybe years—finally was released. Words weren't necessary. Individuals only wanted to express their sorrow.
The Scarlet Cord could be described as a street outreach. Next to the Gerald R. Ford Presidential Museum where my ArtPrize 2014 installation stood, many experienced renewal ocw.upc.edu buy generic levitra online.
Women held my hand or hugged me. Several actually laid their heads on my chest and sobbed. Men wanted to shake my hand as well. These hurting people needed someone to identify with their sorrow, acknowledge the pain, touch them.
Heather Duffy, independent curator and ArtPrize exhibitions manager, referred to me as "an art chaplain." Her description of my work and calling caught my attention. What has taken me years to articulate, Duffy identified in a moment.
But there was no denying it. This scenario of healing has played out again and again throughout my ArtPrize career. Whether focusing on heart disease, cancer, rape in Congo, autism, or, in the case of this year, sex trafficking, my artwork invites people to a place of hope. Vincent Van Gogh, one of the Dutch Masters, said, "Art is to console those who are broken by life."
The Scarlet Cord, like Van Gogh observed, offered consolation to the broken. One afternoon when a middle-aged woman leaned into me and released a heavy sigh, I felt it to the core. Then she walked away. Not a single word was spoken. But something transpired. Whether large or small, this woman experienced healing—on the street—at ArtPrize.