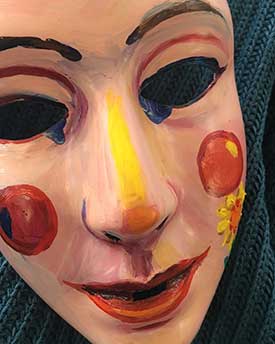 This anonymous story is about a courageous young woman that experienced the stabbing pain of bullying but rose above the abuse. Her resolve and fierce spirit is inspiring.
Behind the Mask
During middle school, the sharks had already figured out that I'm autistic as if they detected a trace of blood. If one disability or disadvantage is enough to rouse their appetite, imagine how another will create a feeding frenzy. Many people bullied me enough as it was, almost every other day in fact, but would it get even worse now that I was in a wheelchair?
The middle school was recently finished at the time around 2004, and yet they hardly accommodated for handicapped people. A few of my classmates were surprisingly kind—they actually talked to me. Others only used me to get out of class; the teacher would pick someone to help push my wheelchair and then let us leave slightly earlier than everyone else for lunch. However, most of the students continued to harass me in almost every way possible, physically and verbally. And one day they went too far.
Everyone was in the gymnasium after finishing their lunch. I was in the hallway. All the sudden, two guys grabbed the handles from behind me, pushed the wheelchair as hard as they could, and then they let go. I couldn't stop. I flew towards one of the blue support columns. The wheelchair clipped one of its corners at such a fast rate that I flew off my seat sideways.
They ran off, leaving me all alone on the cold, blueish gray floor tiles. I'll never forget how painful it was to hit the ground. The shock shot up my leg like a flash of lightning. I screamed, it hurt so much, but no one heard me. No one came to help me. The wheelchair was flipped on its side, damaged with its wheels still spinning.
After struggling to lift my wheelchair to be upright again, I went about my day pretending it didn't happen, when in reality I was shattered. Horrified. Enraged. My mask hid all the stirring emotions and thoughts going through my head all at once. I could've been a great actress or poker player with how I could so easily fool a crowd. Weakness must not be shown ever to anyone, I thought. When my parents asked how school went, I lied, "I'm alright." But in private, I broke down in the darkness of my bedroom; as I sat on the floor starring up at the white ceiling.
Sadly, this wasn't the first time I had been attacked, and it certainly wasn't the last. I have always been a good person, trying my best to get good grades and to help others. Those bullies, as well as all the ones before and after them, went after me for no reason; they saw me as less than human—an abomination. Most days, I sat alone at the cafeteria; I was an outcast. My life continued to fall apart to the point where I felt worthless—I desired for all of it to end, one way or another.
Now I am a junior in college, close to getting my Bachelor's Degree in Digital Media. Countless people told me that I would never become anything, calling me all sorts of names and so on. They didn't so much as hesitate when they finally told me that I should just go kill myself. In a sick sense of foreshadowing, the first bully I encountered back in third grade once said that I wouldn't live past eighth grade.
But I managed somehow to move past all of that. I managed to actually see value in myself again, despite all the voices trying to tell me otherwise. The damage done has yet to fully leave, and some of the wounds may remain as scars. But I will survive in the night and thrive in the light. Don't let anyone tell you that you are nothing because you are good enough just the way you are.
About Pamela
Artist and facilitator Pamela Alderman creates a new kind of artist/citizen work that invites audience collaboration. The work lets others speak and respond. Over the last nine years, Alderman's interactive healing installations, including The Scarlet Cord and Color Me Orange—Color Me Kind, have touched thousands—one individual at a time. For more information, visit Healing in Arts or email ally@watercolorbypamela.com.