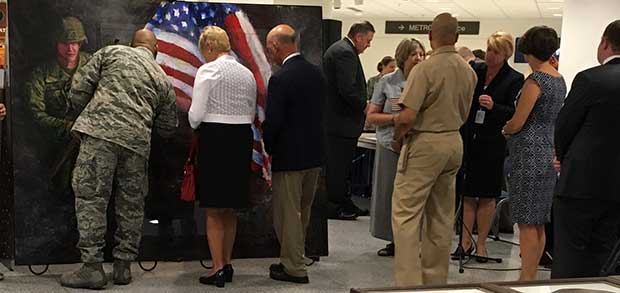 In 2016, my work called Hometown Hero II exhibited at the Pentagon in Washington, D.C. with Reflections of Generosity—a traveling exhibit that promotes healing for our military families. This year's work continues to support our military families. The following Let Go letter is about the difficult journey of one Blue Star Mom whose son attempted suicide.
The Blue Star Mothers is an organization made up of moms with a son or daughter in the military. Their goal is to provide support for service members and their families—especially for those struggling with PTSD and soldier suicide. This important letter gives insight into some of the struggles that our military community faces long after the soldier returns home.
Dear M,

I thought the hardest part of our son being in the Army was going to be the deployments. The months without seeing his face. I worried: Is he eating enough? Is he cold? Is he doing okay?

But now we are now dealing with his PTSD symptoms and attempted suicide. It's been eight months since he tried to pull the trigger. Thankfully, the blessed gun jammed.

Even after months of treatment, his wife doesn't want him in the house. She says she is afraid. So he is staying with us, but he doesn't sleep much. I listen to him pacing the floor at night, and I cry. Why can't I help him?

It was so easy to take care of him when he was little—even when he got hurt. I could just talk to him and things would be all better. Life isn't that simple anymore. He just goes to work and to his counseling appointments—that is his whole life now.

I want my son back. I feel like watching his internal battle is slowly killing me. I'm now choosing to let go of my lack of control. I need to take this step for my own emotional healing.

Miss you,
J
Note: One hundred twenty-six participants pre-submitted Let Go letters and sentences to be collaged into the painting. The names and some details have been changed to protect identities.