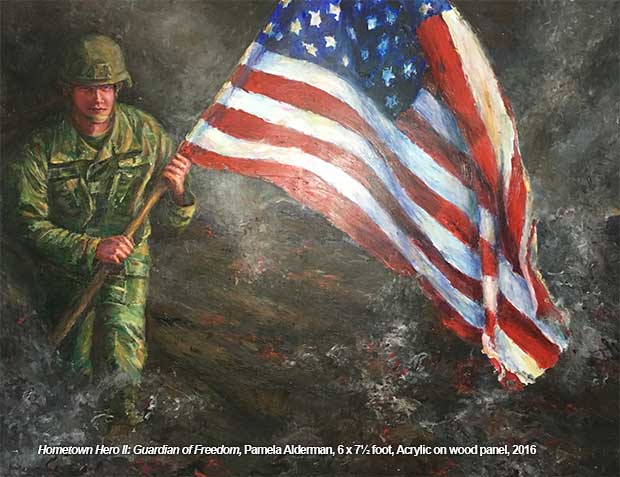 Hometown Hero II
The Pentagon, Washington, DC
September 5-17, 2016
Sergeant Ron Kelsey, founder of Reflections of Generosity, a traveling art exhibition which helps provide soul healing for our military community, invited me to give a presentation, lead a workshop, and exhibit my artwork at the Pentagon in Washington, D.C. in September. I answered, "Yes!"
My talk will raise awareness of post traumatic stress disorder (PTSD) and soldier suicide through my new art series called Hometown Hero II that focuses on hope and inner healing for our military community. Some of our soldiers are struggling with a cascade of emotions after returning from war. While in Iraq on an American base, Sergeant Ron Kelsey heard police sirens whiz by. Suicide had claimed another young soldier's life. Ron writes, "Fellow soldiers walked around like lifeless zombies."
According to the VA, approximately 11-20% of our current veterans are experiencing PTSD. And 18 to 22 veterans commit suicide daily. This means that approximately 8,000 veterans a year take their own lives. According to NBC News in 2012, more soldiers took their own lives than died in combat.
Healing in Arts
Hometown Hero II paintings are being created for soldiers like Sergeant Ron Kelsey and their families to sign the names of their heroes on the artwork. These paintings will be unveiled at the Pentagon and then will travel to military bases with the Reflections of Generosity Collection. Sergeant Ron Kelsey says, "Art can help heal the battlefield trauma entrenched in the soldier's heart. Thankfully, in the art world, their feelings and voices can be freely expressed."
Hometown Hero II Art Unveiling and Fundraiser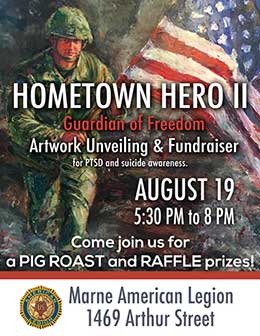 Join us for a pig roast on Friday, August 19, 2016 from 5:30 p.m. to 8 p.m. at the Marne American Legion on 1469 Arthur Street, Marne, Michigan. The Hometown Hero II painting will be available for viewers to sign. This event is sponsored by Ottawa-North Kent Blue Star Mothers MI #194.
Become an Art Patron!
Help Fund Hometown Hero II
Many of you will want to help raise the funds needed for the artwork and travel expenses. The paintings will be donated to Reflections of Generosity. Tax deductible funds can be donated through New Horizons Foundation.