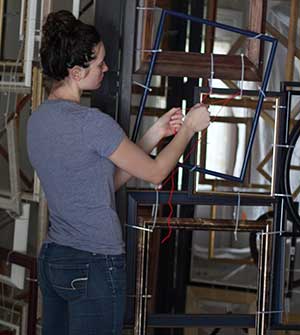 The Scarlet Web, Pamela Alderman, Multi media, 78 x 78 x 85 inches, 2017
Many of us are familiar with the phrase "hidden in plain sight" to describe the children tethered as modern day sex slaves. Some of these children roam our malls or airports during the day and may be even be standing next to us, unknowingly, at the checkout counter. But as we tenderly tuck our children into bed, the young sex worker is just being forced into the night to perform bizarre acts for the insatiable—the buyers of sex, more correctly termed, pedophiles or the sexually broken—who seek to entangle innocent prey.
The Scarlet Web, a five-sided structure resembling a 3D abstract spider web, is made up of a collage of empty frames and six photographic images connected with zip-ties to portray bondage. The work is designed to raise awareness and to provide a safe space for the victims of sex crimes to heal. Alderman and her team create a new kind of artist/citizen work that invites audience collaboration through relational aesthetics. The work lets others speak and respond.
The Scarlet Web invites viewers to go beyond the passive art walk. The work challenges the audience to become co-creators—through spontaneous art making. By winding and weaving the scarlet cord around and within the empty frames, we collectively create a work that speaks for those silenced within a web of lies. Through awareness and positive action, we can be a catalyst for change to help free the young sex worker enslaved within the lucrative underworld of sex trafficking.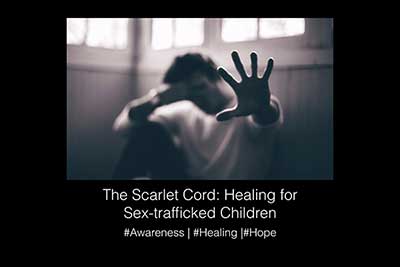 The Scarlet Web showcases images by photographer Zoe Fortuna. Be sure to check out Zoe Fortuna's creative work.
For more information on how to book The Scarlet Cord for your next event, contact ally@watercolorbypamela.com.